We enjoyed our week off.
One of the best moments was on the Livingstone River with my youngest son.  We were at the end of our day and the air was starting to cool as the sun was quickly fading over the mountains.  He had caught some fish and was happy.  As we were walking around one last bend we came upon a quiet side channel that looked like it should hold some trout.  We thought we'd put on a dry fly because it's great fun when we can see the fish eat a floating fly.  As I was changing flies, we did indeed see a couple rising fish.
Now this is where I have to make a confession.  I was tempted to give it a go myself.  I like to catch fish and knew that my son can be a clumsy caster and might spook them and we'd miss the opportunity.  But I'd caught plenty of fish like this and he hadn't.  After a bit of internal wrestling I was able to quell my selfishness and coach him through the hunt.  After a couple of fly changes, SUCCESS!  He fooled the fish and landed a nice little cutthroat trout.  He'd done a fine a job and had an experience he won't soon forget.
After I had pushed him up the steep bank and he'd pulled me up after him he quietly said about our little adventure, "This is fun".  He was right.  It really doesn't get any better than that.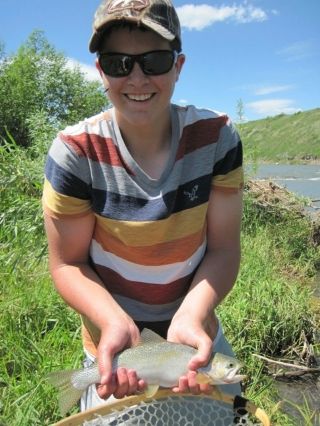 We encourage relevant, respectful comments and questions. Please take a peak at our Community Guidelines.